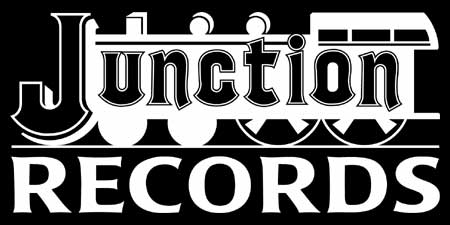 NEWS AND P R E S S P A G E

This is a letter to the editor of the Washington Post written by Don Henley and conveys the feelings of Junction Records and the reasons we started this independent record label, because it's all about the music :
Killing the Music - By Don Henley Tuesday, February 17, 2004; Page A19
When I started in the music business, music was important and vital to our culture. Artists connected with their fans. Record labels signed cutting-edge artists, and FM radio offered an incredible variety of music. Music touched fans in a unique and personal way. Our culture was enriched and the music business was healthy and strong.
That's all changed.
Today the music business is in crisis. Sales have decreased between 20 and 30 percent over the past three years. Record labels are suing children for using unauthorized peer-to-peer (P2P) file-sharing systems. Only a few artists ever hear their music on the radio, yet radio networks are battling Congress over ownership restrictions. Independent music stores are closing at an unprecedented pace. And the artists seem to be at odds with just about everyone -- even the fans.
Contrary to conventional wisdom, the root problem is not the artists, the fans or even new Internet technology. The problem is the music industry itself. It's systemic. The industry, which was once composed of hundreds of big and small record labels, is now controlled by just a handful of unregulated, multinational corporations determined to continue their mad rush toward further consolidation and merger. Sony and BMG announced their agreement to merge in November, and EMI and Time Warner may not be far behind. The industry may soon be dominated by only three multinational corporations.
The executives who run these corporations believe that music is solely a commodity. Unlike their predecessors, they fail to recognize that music is as much a vital art form and social barometer as it is a way to make a profit. At one time artists actually developed meaningful, even if strained, relationships with their record labels. This was possible because labels were relatively small and accessible, and they had an incentive to join with the artists in marketing their music. Today such a relationship is practically impossible for most artists.
Labels no longer take risks by signing unique and important new artists, nor do they become partners with artists in the creation and promotion of the music. After the music is created, the artist's connection with it is minimized and in some instances is nonexistent. In their world, music is generic. A major record label president confirmed this recently when he referred to artists as "content providers." Would a major label sign Johnny Cash today? I doubt it.
Radio stations used to be local and diverse. Deejays programmed their own shows and developed close relationships with artists. Today radio stations are centrally programmed by their corporate owners, and airplay is essentially bought rather than earned. The floodgates have opened for corporations to buy an almost unlimited number of radio stations, as well as concert venues and agencies. The delicate balance between artists and radio networks has been dramatically altered; networks can now, and often do, exert unprecedented pressure on artists. Whatever connection the artists had with their music on the airwaves is almost totally gone.
Music stores used to be magical places offering wide variety. Today the three largest music retailers are Best Buy, Wal-Mart and Target. In those stores shelf space is limited, making it harder for new artists to emerge. Even established artists are troubled by stores using music as a loss leader. Smaller, more personalized record stores are closing all over the country -- some because of rampant P2P piracy but many others because of competition from department stores that traditionally have no connection whatsoever with artists.
Piracy is perhaps the most emotionally gut-wrenching problem facing artists. Artists like the idea of a new and better business model for the industry, but they cannot accept a business model that uses their music without authority or compensation. Suing kids is not what artists want, but many of them feel betrayed by fans who claim to love artists but still want their music free.
The music industry must also take a large amount of blame for this piracy. Not only did the industry not address the issue sooner, it provided the P2P users with a convenient scapegoat. Many kids rationalize their P2P habit by pointing out that only record labels are hurt -- that the labels don't pay the artists anyway. This is clearly wrong, because artists are at the bottom of the food chain. They are the ones hit hardest when sales take a nosedive and when the labels cut back on promotion, on signing new artists and on keeping artists with potential. Artists are clearly affected, yet because many perceive the music business as being dominated by rich multinational corporations, the pain felt by the artist has no public face.
Artists are finally realizing their predicament is no different from that of any other group with common economic and political interests. They can no longer just hope for change; they must fight for it. Washington is where artists must go to plead their case and find answers.
So whether they are fighting against media and radio consolidation, fighting for fair recording contracts and corporate responsibility, or demanding that labels treat artists as partners and not as employees, the core message is the same: The artist must be allowed to join with the labels and must be treated in a fair and respectful manner. If the labels are not willing to voluntarily implement these changes, then the artists have no choice but to seek legislative and judicial solutions. Simply put, artists must regain control, as much as possible, over their music. The writer is a singer and drummer with the Eagles and a founding member of the Recording Artists' Coalition.
  © 2004 The Washington Post Company
---
Randy Kohrs - A Crack in My Armour - Nov-21-2001 ©2001 iBluegrass Magazine. All rights reserved. By Steve Romanoski
Junction Records personnel: Randy Kohrs- guitar, mandolin, Weissenborn Guitar, drums, dobro & vocals/ Jeff Autry- guitar/ Judy Rodman- piano & guitar/ Wayne Benson- mandolin/ Eric Halbig- mandolin/ Donnie Allen- mandolin/ Ricky Simpkins- fiddle, viola & mandolin/ Stuart Duncan- fiddle/ Jimmy Clark- fiddle/ Scott Vestal- banjo/ Jay Weaver- bass / Robert Jason- piano, synth & vocals/ Michelle Poe- vocals/ David Parmley- vocals/ Jim Lauderdale- vocals/ Gail Farrell- vocals/ Adam Mitchell- vocals
Reason For Everything/ Miles Of Heartache Yet To Go/ Little By Little/ Crack In My Armour/ I Would If I Could/ Prisoner's Tears/ Anyway/ Every Now And Then/ It Can't Rain Forever/ Out Among The Stars
Randy Kohrs is rapidly gaining recognition as a resophonic guitarist with attitude! Thus, it came as a total surprise when I found his initial solo recording, A Crack In My Armour, to be directed toward Kohr's vocal abilities and not instrumental prowess. However, after listening to the recording, I found out why Kohrs chose this route.
A Crack In My Armour is a recording with style! Randy Kohrs took the time to find some great material that could be instrumentally performed in minimalist fashion and highlight the lyrics alongside his expressive and tasteful vocals. Kohrs brings to life each character that populates these songs with a level of eloquence that is seldom brought to the bluegrass performance. And the examples abound! In "It Can't Rain Forever" Randy embraces the extreme sorrow of a town that covered its own social conscience by allowing a mentally slow man accept a punishment for the death of an abandoned child. The song, co-written by Betsy Hammer and Kohrs, covers a huge amount of emotional ground. A mother who doesn't care about her child, a challenged man who does care but lacks the ability to provide and a town that lives with the shame. However, Kohrs performance is based on performance as well as lyrical expression. The finale of "It Can't Rain Forever" features a vocal twist that resonates like the creation of a thousand tears. And this is the moment that shines above them all. Sometimes a performance equates to a single moment of glory. This was one of them! Later in the recording, Kohrs rehashes "Out Among The Stars" in grand style. This time Randy presents the feelings of a troubled youth, bent on a tragic road to self-destruction after his many cries for help went unheard. Another hidden gem is "Every Now And Then." This time Kohrs views the subject of how some love is just simply eternal as the narrator meets his high school love. The performance is a blend of intelligent poetry and a performer who handles every line as the most important performance of his life.
This is not to say that Randy Kohrs lessened the effectiveness of the instrumental sections of the recording. I've noted, for many years, that over production is a curse that takes down more recordings than it saves. It is more important to supply quality production than simply fill in every imaginable space with noise. Silence is the most underrated sound in music! Thus approaching a project from an aspect of soundscape can bring out some pure beauty if the right players are involved. Essentially players use their imagination for effects rather than restatement of the melody. On the aforementioned "It Can't Rain Forever" there are several prime examples. First the tune is introduced with a lightly pulsing chordal movement from Scott Vestal's banjo. It balances between the passing of time and the gentle innocence of a small town looking for salvation. Then Eirk Halbig uses the upper ranges of his mandolin to duplicate the tears of the crying child which continues to haunt the boy in prison and the town that let him lose his freedom to cover their guilt.
Kohrs sets interesting boundaries for bluegrass. "Reason For Everything" is a barn-burnin' bluegrass number from the moment Rickie Simpkins brings out the standard fiddle intro. Vestal and Kohrs bring this one home on banjo and some aggressive guitar work. However Kohrs shows us that he can crank out bluegrass in a more standard style on this one.
A Crack In My Armour feels natural although it is certainly a departure from the current make-up of contemporary 'grass. Randy Kohrs brushes a lot of styles and instrumental mannerisms to develop his sound. He can bring tension to the music with a resophonic run or solace with a mandolin with an ease that is simply amazing. However, it's the entire project stays with you on this one. And there are several songs on this collection that will live well beyond the moment in which they were performed. There is social commentary presented with the soul of an artist. And I don't think you'll hear much of this music in jam sessions. These songs make you think and cry. Only Randy Kohrs had the good judgment to give them to us in a uniquely produced package. A Crack In My Armour is a collection of music created by a man who respects music. And you can't expect better than that!
---
Kitty and Johnny Opry Members ?
Back in the 60's a lot of the Opry members left over what was considered to be a conflict of interest. This was due to the fact Jim Denny the manager of the Opry at the time started to get into booking talent. Jim had a list that included Webb Pierce, Minnie Pearl, Little Jimmy Dickens, Jack Green, Faron Young, Kitty Wells and Johnny Wright. After time most of the Artist were welcomed back without much being said. There were two members, however that left that have not been reinstated and are not members to this day, Kitty Wells and Johnny Wright.
We have contacted the Opry on their behalf and got this response as to why Kitty Wells and Johnny Wright should not be members of the Opry. A Gaylord Entertainment executive said that they were not the type of Artists they were signing to the Opry. They wanted bigger names that would draw for a longer period of time. I found this interesting and troubling due to the fact that Kitty was the first female singer ever signed to the Opry. They have her picture displayed on the Opry House. At the time Kitty and Johnny were members, all artist gave 10% of everything they made for personal appearances to the Grad Ole Opry. Also, over the years in their travels they always promoted the Opry. Not to mention one of Roy Acuff's last requests was that Kitty and Johnny return home to the Opry.
I am posting this for recognition of the pioneers that started this business and ask two questions.
1.Should Kitty and Johnny be reinstated as members of the Opry?
2. Why aren't Johnnie and Jack members of the Hall of Fame?
I will be posting info on Johnny and Jack just to let some of the people who are now in Country Music what they did for the industry. How they started promoting it back in the 30's and their music is still recognized and sought after.
Thanks to all who will write and call to start this campaign.
I urge DJ's, Artists, Fans, and Executives to let others know these facts and call or write
if they feel Kitty and Johnny are deserving of this honor.
For Inquiries about Kitty and Johnny being Opry Members:
Grand Ole Opry
Attn: General Manger
2802 Opryland Drive
Nashville, TN 37214
615 - 871 - 5719
For Inquiries for Johnnie and Jack to be inducted into the Hall of Fame:
CMA
One Music Circle South
Nashville, TN 37203
615 244 2840
Thank You,
John Sturdivant, Jr.
---
November 21, 2001 - Rob Patterson CDNOW Contributing Writer
Here's some irony for you. In 1974, Kitty Wells recorded this album with such leading lights of the Southern rock movement as Allman Brother Dickey Betts; the Marshall Tucker Band's Toy Caldwell; Scott Boyer and Tommy Talton of the band Cowboy; and Chuck Leavell of the Allmans and later Sea Level. Now, on its first release 27 years later, guess whose work sounds more dated: Wells or the then-young rockers?
It was an unusual match that probably seemed like a sharp move at the time, and the results are a bit mixed, more due to the rebel rockers than Wells. The arrangements sometimes bring to mind the progressive country of that time, and fall prey to one of that movement's biggest sins of mistaking overplaying for genuine emotional impact. The opening track, Ed Bruce's "Too Much Love Between Us," is as busy as Grand Central Station at rush hour, making one wonder if the players were under the influence of the favorite nasal for that era's musicians. Far too often, the accompaniment steps all over Wells as she sings; the players even step on one other from time to time. Too many tracks dress Wells' plaintive and honest voice in frilly duds when all it need is a pretty and tasty gingham dress.
However, this disc has its merits indeed. The best moments are in fact when Wells tackles such soul numbers as "I've Been Loving You Too Long (To Stop Now)," "My Love Never Changes" and "Do Right Woman, Do Right Man." The Dixie rockers could play that stuff almost by second nature, and Wells inhabits the songs so convincingly that it spotlights how country and Southern R&B were indeed close kin. As well, the more traditional C&W numbers like "What About You" (by Wells' husband Johnny Wright) and "Till I Can Make It On My Own" show some sparkle. And Wells makes a strong case for the Bob Dylan-penned title tune as a country anthem.
All told, Forever Young is a fascinating if occasionally flawed anomaly, although Wells ultimately brings more lasting impact to the table than her players by setting her side of it a good bit more simply. Hence the by-then veteran singer sounds timeless while the young 'uns made, on the lesser tracks, music that is stuck in the era when it was recorded. They had yet to learn what Wells obviously knew, that sometimes restraint is the most potent musical weapon.
---
October 14, 2001 - SUNDAY - By Ed Will Denver Post Staff Writer
Better late than never - Kitty Wells' novel release in '74 finally comes out
One of the best and certainly among the most interesting country albums to come out this year is the Junction Records reissue of "Forever Young" by Kitty Wells. But calling it a reissue is only about half-right.
The record first arrived at record stores in 1974, but only for a visit. Within weeks, Capricorn Records pulled it back at the request of the singer's husband-manager, who didn't think it was country enough for her fans.
You can understand Johnny Wright's concern. His wife is a country music pioneer, and the album's title cut was written by Bob Dylan; yet another song is the work of the late R&B great Otis Redding, "I've Been Loving You Too Long (To Stop Now)."
And Wells recorded the album backed by musicians from well-known Southern rock groups, including the Allman Brothers and Marshall Tucker bands.
Remember, this was 1974, before the lines dividing Nashville from rock and pop all but disappeared and two years before Wells landed in the Country Music Hall of Fame.Plus, Wells had carried the title Queen of Country Music since 1952, the year she became the first female singer to sell a million records and chart a No. 1 country single with "It Wasn't God Who Made Honky Tonk Angels." Starting that year, Billboard named her its top female country vocalist for 14 years in a row. She charted 40 Top 10 records.
All that success came under one label. She started with Decca Records in the late 1940s and stayed with the company, albeit under different corporate names, until leaving MCA in 1974.
That same year year, Capricorn, a major rock label, decided to branch into country music.
"My son-in-law knew the guy who owned Capricorn Records, and he kind of set up the deal with them and my husband for me to go down there and do a session with Capricorn," Wells told The Post in a telephone interview from her home in Madison, Tenn.
"It was (Capricorn's) first adventure, I think, in doing country, so their musicians were different, not really country musicians," Wells said. "But they did a real good job on the songs we did."
They sure did, and it really shouldn't have been a surprise.Early rockers such as Elvis Presley, Jerry Lee Lewis and Carl Perkins came straight out of country music, but by the 1970s little country influence was heard in the music of most rock groups, the Eagles notwithstanding.
However, most of the musicians who backed Wells on "Forever Young" came of age in the culture of the rural and small-town south, where life for decades had been chronicled in country songs.
The music they made with their own bands was among the first to bridge the gorge that had come to separate the two musical camps. But this time the influence began to flow the other way.
The same year Capricorn released Wells' album, the Allman Brothers came out with the LP "Brothers and Sisters." It included the country-tinged "Ramblin' Man," written by guitarist/frontman Dickey Betts.
The Marshall Tucker Band never hid from its country roots, as witnessed by its use of the steel guitar.
Meanwhile, Willie Nelson, Waylon Jennings and others in the outlaw country movement had brought rock's high energy, loud guitars and defiant attitude to main street Nashville.
Wells and country music grew up together and she played a major role transporting traditional or "roots" country from the rural South to countries around the world.
That context makes it understandable that her husband failed to realize what happened those few days Wells spend with the rockers. When the then 55-year-old singer entered the Capricorn studio, she walked into country's future.
Betts - an original member of the Allman Brothers, and now with his own band - played at those sessions. Betts is credited on "Forever Young" with playing Dobro, but Wells said she thinks he also played mandolin.
Toy Caldwell, original lead guitarist and frontman for the Marshall Tucker Band until his death in 1993, played acoustic and electric guitars and contributed a song, "Too Stubborn."
Chuck Leavell - a one-time Allman Brother and long-time studio and tour regular with the Rolling Stones, and who recently toured with Gov't Mule - handled piano duties along with Paul Hornsby, who had been a member of Hourglass, a forerunner of the Allman Brothers.
Hornsby co-produced the album with Johnny Sandlin, another Hourglass member, who went on to produce many hit albums for the Allman Brothers and other acts, such as Elvin Bishop. Sandlin also played acoustic guitar on "Forever Young."
"We had heard them, heard their records, but as far as meeting them and knowing them, we had never met them before," Wells said.
Wright didn't play at the sessions, but was at the studio for the week it took to record the album, Wells said.
"They had the songs down there," Wells said. "We listened to them and picked the ones we thought would be the best, the ones I could do more country because my singing is the same. It is just that the songs are a little different - and the music."
Wells said she always has listened and enjoyed all types of music but admitted she felt a little intimidated at the Capricorn session.
"I didn't know how well I could do it, but I did my best," she said.
She said a couple of the songs can be classified as real country music, including one, "What About You," co-written by her husband and his longtime performing partner, Jack Anglin and Anglin's brother Jim.
Wells, however, offers a different spin on that song. "We took it out of waltz time and put in regular beat time," she said. "Johnny and Jack did it in waltz, the way it was written, but I did it plain."
Wright's musical career - singer, songwriter, guitarist, bass fiddler - reaches back to the mid-1930s. He and Anglin teamed up as the duo Johnnie & Jack in 1940 and stayed together until Anglin died in 1963.
After his partner's death, Wright continued to record as a solo act and also began touring with the Kitty Wells-Johnny Wright Family Show, which only left the road last December. Wright also served as Wells' manager, and it was in that role that he pulled back "Forever Young" in 1974 after it had been in stores only a few weeks.
"It was so far advanced and so different from what I had been doing. A lot of the disc jockeys, I think, thought it too different from what I had been doing. So, we finally decided to just pull the record and forget about it," Wells said.
But the album had one devoted fan, John Sturdivant Jr., who was 11 years old when Wells recorded "Forever Young."
"I heard it when she first did it back in '74. And it was one of my favorite albums of all those she did. She is my grandmother, and I had never, ever heard her sing like that before. You know, more of a bluesy sound," Sturdivant said in an interview from Junction Records in Madison. Sturdivant is co-owner of the record label and the driving force behind the reissue.
"For me it was music that they (other country artists) had been trying to do for years - the country music that is out now. (The album) was like 20 years ahead of its time," he said.
Sturdivant's affection for his grandmother's Capricorn recording never wavered, and over the years he pestered Wright to let him do something with the album.
"Gradually over the years I guess I wore Johnny - "PawPaw' - down to where he agreed to let me put it out. I went in and got all the masters they had and remastered them and put it out," Sturdivant said.
Wells laughs when it is suggested her husband wasn't real anxious to set the album loose again.
"No, he wasn't too anxious," she said. "He is afraid people might not like it. Of course, it is different from what I'd been doing, but a lot of the country artists are doing this type of song now."
Wells said Wright likes the album better than he initially did, and she credited that to her grandson's skill in the studio.
"John took it and really worked on the music, got it sounding a lot better than when we released it," she said.
Wells said regardless of how the CD sells, she and Wright do not plan to return to touring. They retired from the road Dec. 31.
"We've been in the business a long time. I know all the fans hate to see us retire, but they understand that we need to take some time to do what we want to do," she said.
But they spent too many years in the music business to walk away completely, so they appear every now and then in Nashville at the Nightlife Dinner Theater, co-owned by another grandson.
The couple does an occasional show out of town, including one in New York in September. But they plan far fewer than their last year on the road, when they played in 20 states and several Canadian cities.
Wells won't be touring in support of "Forever Young," which hurts its marketing, especially for a small label without the means to publicize it otherwise. So, the CD faces an uphill climb in the market despite Wells' wonderful vocals and the outstanding work turned in by the rockers.
"Forever Young" has arrived in some stores, and it also can be purchased on the Web at www.kitty wells.com or by calling 615-860-8686.
Of course, Wells would enjoy seeing the album hit big, but her wish for it is much more modest.
"I just hope the people who used to buy my records like it," she said.
---
10 - 04 - 01 Forever Young Kitty Wells
Kitty Wells is one of the true Queens of real country music. Her music has always been down home, honest and from the heart. Back in the early 1970's, she went into Capricorn Studios in Macon, Georgia and recorded a different type of Kitty Wells album. An album featuring some of Southern Rock's finest pickers, along with some of the best, most well written tunes she could find.
We are quite fortunate that Junction Records has reissued this excellent country album, which combined pure country roots music and Southern Rock long before there was a Travis Tritt or Shania Twain on the charts. Kitty was always an innovator, and her song selections for the record were nothing short of inspired. From the Bob Dylan penned title track, "Forever Young," to the Muscle Shoals/Dan Penn hit "Do Right Woman, Do Right Man," the music is excellent. She covers The Otis Redding/Jerry Butler tune "I've Been Loving You Too Long" and does an excellent job of Toy Caldwell's "Too Stubborn."
The lineup of players on the project reads like a who's who of Southern Rock of the seventies, with Dickey (Richard) Betts from the Allman Brothers on dobro; Scott Boyer and Tommy Talton from Cowboy on guitars and fiddle; Toy Caldwell of Marshall Tucker on guitar; Paul Hornsby on organ and piano; Chuck Leavell of The Allmans, Sea Level and Rolling Stones on piano; Johnny Sandlin on guitar; Bill Stewart on drums; and David Brown on bass. The original release was produced by Hornsby and Sandlin and engineered by Sam Whiteside and O.V. Sparks.
These musicians knew they were working with a true living legend of country music, and it shows in the precise performances that make up this very excellent CD. A true collector's item for fans of both Kitty Wells and of Southern Rock. -Michael Buffalo Smith

© 2000-2001 GRITZ, Ltd. -- A Michael B. Smith Company
---
Forever Young (Junction Records) Kitty Wells by Dan MacIntosh - September 24, 2001
The liner notes on this release detail how this was a bit of a controversial recording back in 1974, when it was first released. It was thought to not be mainstream country (enough), nor within the traditional Kitty Wells style. But what may have sounded adventurous in the Seventies, sure comes off unquestionabley fine now.
With all that's passed in country music since this album was first made, and with all the accumulated sins against country music committed by artists who don't remember the factors that make great country music great, this album is a shining example of what was absolutely right about the progressive steps Wells took back in '74.
The title cut is that much-recorded Bob Dylan song, and since he's clearly one of America's best songwriters, why should she not have recorded one of his songs? Could this really have been a sticking point for traditionalists back then? She also had the good taste to record Otis Redding and Jerry Butler's "I've Been Loving You Too Long (To Stop Now)" and Dan Penn's "Do Right Woman, Do Right Man," which are better known as soul songs. But since Wells sings with such a hurt in her voice, it's not too much of a stretch to label her as a kind of soul singer of sorts.
Taking risks, like this recording, is what has kept Wells so forever young all these years.
Reviews used by permission. The Roughstock Network, copyright 1993-2000 Roughstock Productions, All Rights Reserved.
---
KITTY WELLS "FOREVER YOUNG" By DAN AQUILANTE - September 4, 2001 --
KITTY WELLS "Forever Young" Country music has had many queens, but if you were to ask Loretta, Dolly or Reba who was the first, they'd say Kitty Wells. Wells, now 82, was the first female in country music to sell a million records, and her famous No. 1 single "It Wasn't God Who Made Honky Tonk Angels" was so racy the Grand Ole Opry banned it from their weekly broadcast. In 1974, when "Forever Young" was recorded, country music was in a shambles. Nashville cats were splitting for California to rock, and the old-timers were adding 1,000-string arrangements to sapify their trademark twang. With the help of members of the Allman Brothers and the Marshall Tucker Band, Wells experimented in crossing country and rock, and "Forever Young" - outrageous by '74 standards - was the result. Though it sounds pretty tame now, then it was a real risk for Wells to cover Bob Dylan's "Forever Young" and Otis Redding's "I've Been Loving You Too Long (to stop now)." Dusted off and remastered, "Forever Young" is proof that Wells was right. And marrying rock and country was the same road that artists such as Chris Hillman, Gram Parsons and Emmylou Harris would soon follow. This is a classic and historic album hard to find at most record shops. Order one online from Junction Records at www.junctionrecords.com.
NEW YORK POST is a registered trademark of NYP Holdings, Inc.
NYPOST.COM, NYPOSTONLINE.COM, and NEWYORKPOST.COM are trademarks of NYP Holdings, Inc.
Copyright 2001 NYP Holdings, Inc. All rights reserved.
---
NASHVILLE TENNESSEAN on June 16, 2001
Head to Opry Mills: Hail to the Queen!
From Tennessean music writer Craig Havighurst:
Kitty Wells, native of Nashville, the Queen of Country Music, plays a rare show tomorrow afternoon at Tower Records at Opry Mills. She was 33 years old when her song It Wasn't God Who Made Honky Tonk Angels became a smash hit and galvanized the idea that women could be as iron-willed and commercially successful as their male counterparts in the country music game. What followed was extraordinary: 38 Billboard top-10 records, 14 straight years as Billboard's ''top female country vocalist,'' a Grammy nomination and induction into the Country Music Hall of Fame. She'll perform with her husband, Johnnie Wright, at 4:30.
And wait, there's more. A rare Capricorn record Wells made in 1974 of Otis Redding and Bob Dylan songs (among others) with members of the Allman Brothers and the Marshall Tucker Band has been unearthed and reissued. It will be on sale tomorrow.
---
6 - 13 - 01

Just in time for Fan Fair! Junction Records released today two new CD's. One is the release of Kitty Wells "Forever Young". The CD includes songs written by Bob Dylan, Otis Redding, Ed Bruce, and husband Johnny Wright. It is available at Tower Records in Nashville at both locations and will be on sale at the Tower Records Fan Fair locations as well as the Kitty Wells and Johnny Wright "Road Show Farewell" video. The musicians were members of the legend Southern Rock Bands the Allman Brothers, Marshall Tucker, and Sea Level. Kitty and Johnny will not only be signing at the Junction Records Booth for Fan Fair but a special performance for the release of the video and CD is planned at the Tower Records store in Opry Mills on Sunday June 17th at 4:30PM.
Junction Records has also just released "A Crack In My Armour" by Randy Kohrs. An amazing vocal talent with extraordinary musical skills bred deep in traditional country music brings forth a bluegrass endeavor "strong at the roots, fresh in its approach, and truthful from minute one". His CD was shipped out to radio stations today and will also be available at the Tower Records stores. Junction Records is very honored to have both of these Artist on thier roster and looking forward to great success for each of these projects. If you are a DJ or member of the press and need more info on these products, schedule interviews or have radio liners sent to you please contact us with your request.

615 860 8686 FAX 615 860 8675 or Email info@junctionrecords.com
---
4 - 23 - 01
** PRESS RELEASE **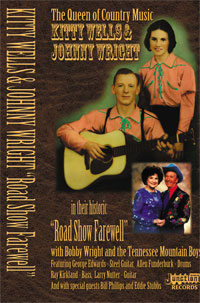 Kitty Wells and Johnny Wright "Road Show Farewell" December 31, 2000 was not only the last day of the new millennium but it was also the last performance of a 63 year long run for the Kitty Wells and Johnny Wright Family Show, at the Nashville Night Life on Music Valley Drive. The event was caught on tape and now available to the public through Junction Records. Produced by Music Entertainment and Wright Enterprises. Guests include not only the Tennessee Mountain Boys but also, their son Bobby Wright, Bill Phillips, and Eddie Stubbs. The video includes photos of the bands over the 63 year period, the live performance, and an interview by Eddie Stubbs at the conclusion of the evening that was broadcast on WSM 650. A true historical treasure for any Country Music Fan. Running time is 68 minutes.
For more info contact
Junction Records http://www.junctionrecords.com
615 860 8686
---
01 - 07 - 01
Junction Records is pleased to announce the signing of Randy Kohrs to its roster! Randy's CD "A Crack In My Armour ", produced by Robert Jason and Randy. Be listening for the first single "Little by Little".
Junction Records is currently working with Kitty Wells, "the Queen of Country Music",
on the re-release of her two-decades old album entitled, "Forever Young".
Recorded as a departure from the dependable formula that had propelled her into the "royalty" of country music, this project was produced in Macon, GA with help from legendary southern rockers, Toy Caldwell, Dicky Betts, and Chuck Lovell; and features songs from writers such as Bob Dylan and Otis Redding. Her first effort after leaving a long-term contract with MCA, the album was given a low-key release on Capricorn label.
This album represented a lot of firsts for Kitty. Not only was it her first record release after leaving MCA and the first time she recorded harmonies by singing with herself; it was almost certainly the only time her musical guide took her in the direction of crossover pop and rock and roll. Visionaries are usually misunderstood. Naturally, at that time it was considered to be not "country" enough and not "the real Kitty Wells sound", and it was therefore quickly pulled from the marketplace and forgotten.
Until now... The staff at Junction Records is very excited about this historically significant project and looking forward to its release.